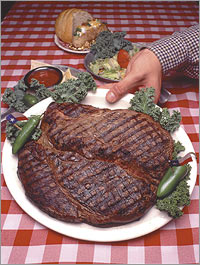 So...even though I have only worked at Rockwell Automation for three weeks, they decided to hold a dinner in my honor. They chose to serve me steak, baked potatoes, cake, and sweet tea...and because I am so kind, I decided to share the food with all of my co-workers. They also gave me a plaque with the following inscription:
"Because of your many days of devoted service, we crown you king of the Pack and Paint division. Long, live Eric."
Okay, so I did eat free food...everything else was a lie. They gave us free food because the company has gone for 8 years without a loss-time accident. (What that means is that no one has died or cut off any of their arms during the last 8 years) Well, now that you know the truth, I am sure that you can appreciate my fantasy-story...since it was much more entertaining.